3 Quick Tips for Easy Patio Style
Get your patio into shape for our long summer evenings using these 3 quick & easy tips.
Provide Multiple Seating Options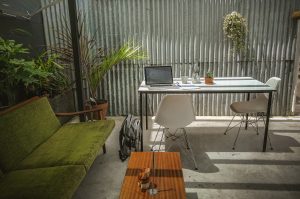 Make sure you have comfortable seating for yourself and a few guests. If you only have room for a small patio table, make it as comfy as you can with seat cushions and throw pillows. If you have a cosy corner or small back wall to install a bench or corner seat, it can be a great way to add extra seating without taking up too much room.
 
If space is not an issue for you, create an eating area with a patio table, and a separate sitting area with room to lounge. That way you're sure to have enough seating for those extra guests at a dinner party. Add colour on furniture using bright fabrics and cushions, and an outdoor area rug. Pattern creates and interesting backdrop, like this corrugated back wall. Keep some light blankets handy to add a touch of warmth for those cooler evenings.
Create Mood with Lighting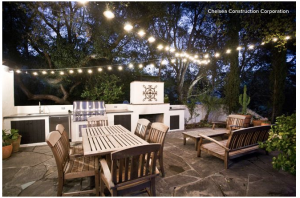 The key to any great room is the lighting component, and it's equally important in an outdoor space. To really enjoy these long warm evening, it's better to be able to see the faces of those around us.
 
For a great party feel, add some overhead string lights to emulate a restaurant patio. The soft glow makes for a more romantic feel than bright overhead lighting.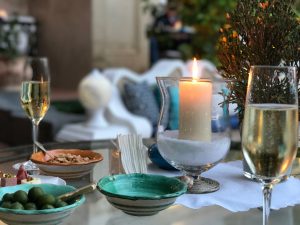 Better to have more strings of dimmer lights, than fewer really bright ones.
 
You can also hang a few lanterns in varying locations around the patio to create more interest. Add some candles for table lighting and your look is complete.
Add Some Natural Beauty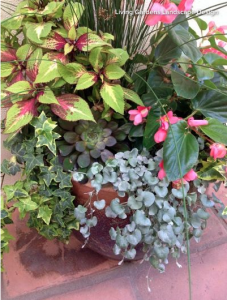 Adding Greenery to your outdoor space will help balance the combination of indoor and outdoor living. Use pots of mixed perennials and annuals that will add colour to your darker corners. Combine varying sizes of pots and containers, so you can stagger the heights for visual interest. Compliment darker green plants with red and lime green ones, and add some silver-leaved trailing plants as shown here.
 
Flowers can be mixed for varying colour or used in a consistent colour theme like whites and blues to match your fabrics. Vines can be trained up and over posts and along walls, and are a great way to bring some colour and scent to blank space.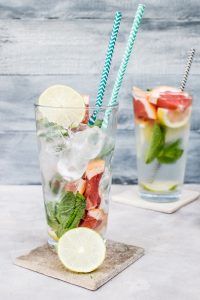 Not only will your patio look beautiful, you'll help to attract bees and butterflies to your mini garden.
 
Following these 3 quick & easy tips can get your patio or deck ready for your weekend of entertaining in no time!
 
Share some of your tips for outdoor living below.