Create a Functional and Stylish Kitchen
The kitchen is one of the busiest rooms in our homes. We tend to spend a lot of time here, prepping meals, cooking & cleaning up. Whether it's feeding a family or entertaining for friends, our long winters ensure we do most of our cooking indoors. The layout and set up of a kitchen is extremely important to enjoying these activities. Let's create a functional and stylish kitchen to make the most of our time spent here.
 
 
Create A Functional and Stylish Kitchen
 
If you're lucky enough to be renovating your kitchen, take a few minutes to consider some important points to create a functional and stylish kitchen.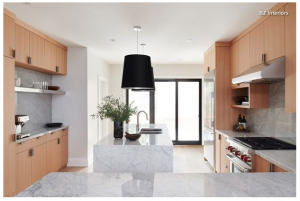 Budget: Set your budget and be realistic. Do your research so you know what you'll be spending on specific items. Factor in some extra dollars for those unexpected (yet likely) added expenses.
Layout: Consider the best layout for your space. Obviously the space of your existing kitchen is relevant. Can you expand the space? Also keep in mind the classic work triangle between fridge, stove and sink that adds efficiency to your movements. Walking 10 steps to the refrigerator every time you need to grab another ingredient and dinner will never be on time!
Space Planning: Think about entering and exiting the kitchen, and moving around the kitchen and island. Leave plenty of space for more than one person to move freely. Cupboard or pantry space and room for appliances also need to be factored in.
Taking the time & thought to plan your space and what works best for you will have a big impact on your finished product.
 
 
Updates Can be Just as Rewarding
 
Even if you're not doing a full kitchen renovation, there are some cost-effective ways to upgrade your kitchen that will make it more attractive and more efficient.
Lighting: Lighting in every room is key, but extra important in a workspace. Ensure lots of lighting to create a bright and thoroughly workable kitchen space. Consider installing pot lights in the ceiling, pendant lights over an island, or under-cabinet lighting to add to the task lighting.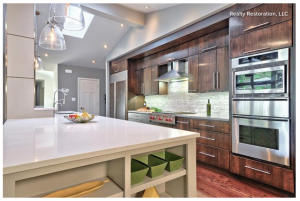 Extra Counter Space: This is one of the most important elements for an efficient workspace and is a huge point to consider. Extend an existing countertop, or install an island to add more prep space. If those options aren't possible, try to free up counter space by creating better storage for small appliances so you can tuck them away out of sight when not in use.
Upgrade Appliances: If it's been a while since you've purchased new appliances, now could be the time. Efficiency while cooking can make the process all the more enjoyable, so do some research and look into the latest energy-efficient models available for your space. Be sure to donate your working older appliances to Habitat for Humanity or another charity that will make good use of them.
Making a few simple updates can be just as rewarding as a renovation, and can make a big difference to the workability of your kitchen.
 
 
Trends to Consider
 
Do your research and check out the latest in kitchen design trends for some inspiration. Not only will you get some great ideas to implement in your own kitchen, but you will also find out about new materials, colours, and trends to inspire you.
Cabinetry: White cabinets are at the top of the list for popularity, and white kitchens in general are still hot. But if you want something a little different, there are many style & colour options to add some distinct style to your kitchen, including high-gloss cabinets, mesh inserts, and metallic finishes. Have a look at this article from Houzz for some design inspiration.
Countertops: They are still one of the best investments in kitchen renovations, and also can be one of the priciest pieces you invest in. Quartz, Granite & Marble are still top of the list when it comes to natural stone, but require regular maintenance to keep them looking good. Other options for low-maintenance countertops include engineered stone, soapstone, laminate (yes laminate!), Ecotop (a bamboo & paper composite), and Zinc. Again, do some research to find out which material will work best for your needs.
Metals: Mixing metals in the kitchen is no longer a no-no. You can mix and match with one or two elements but do it carefully and don't go overboard. Copper and stainless steel work well together, as do polished nickel and oil-rubbed bronze. Be brave! Native Trails shares some great examples here.
 
 
Don't Sacrifice Style for Efficiency
 
There are many ideas for creating your best kitchen so that you don't have to sacrifice style for efficiency.
Check out these colourful kitchens posted by TheSpruce.com for some colourful inspiration.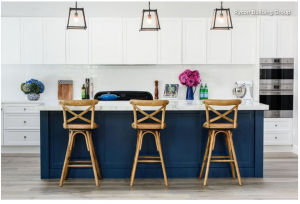 Just follow these tips for timeless style in your kitchen and you'll be creatively cooking up a storm in no time!
 
Have some tips of your own? Leave a comment below.