Create an Inviting Entry for a Positive First Impression
The front entry of your house provides guests and visitors the first impression of your home. Creating an inviting entryway into your house makes visitors feel welcome and helps potential buyers feel positive about your home. Now that spring is upon us, it's time to get the outside of the house and property cleaned up and ready for the warmer weather. Here's how to create an inviting entry for a positive first impression.
 
Spring Cleaning & Maintenance
When it comes to general maintenance, make a list and work your way through it. I posted a link from Houzz on Monday with a few of the key things to clean up outside the house. In our windy & rainy climate gutters & downspouts get blocked and can cause more damaging issues, so spring is a good time to clean them out, as well as removing leaves, needles and moss from the roof. Clean your windows inside & out, and sweep out the fireplace & chimney (hire a professional for that job). Dirt and leaves accumulate everywhere, so a general sweep and tidy of all outside areas, including sheds, garages & carports will really help get your property tidied up for spring.
 
Trim Those Vines!
If you can't see the walls and windows for the leaves, it's probably a good time to do some basic landscaping. While this creeper looks pretty, vines can be very damaging to the surface of your home and need to be trimmed so they don't overtake their surroundings.  Most deciduous plants can be pruned in spring, so tidy up those unruly tree branches. Do a little research before you start chopping though.. certain plants prefer to be pruned in the fall, like Rhodos & Camelias, so you don't lose the flowers that have been been budding since last year. There's nothing like getting out in the fresh air and doing some digging! Pull weeds and dig the earth to aerate the soil. Plant some spring flowers, start a veggie garden. Rake the lawn and bundle all your cuttings for pickup on garbage day. Already your lawn & garden is looking fresh & new!
 
Have a Look Through Buyers Eyes
Does you home need a new coat of paint? Now's the time to have a look around window & door frames and foundation areas to check for wear. Maybe just some caulking around the frames will do the trick. If you don't need to paint the entire outer surface of your home, painting doors &  window frames can give your home a facelift. This is an inexpensive way to freshen & update the overall look of your house, and it can create an inviting entry for a positive first impression.
 
Lighting and Hardware
Lighting is key to any room, but can be especially important in an entry. A well lit home from the outside offers an inviting entry to the inside of your home. Light up the doorway properly to avoid dark corners. Provide a well-lit path so visitors can see where they're stepping. And create a visual story by spotlighting a great tree or piece of outdoor artwork.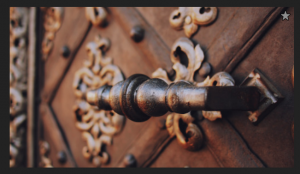 Don't forget the hardware! Take an up-close look at the existing door handles, letter slots, and door knockers on your front door. Modernize and update simply by changing the colour and style of the hardware. This is an especially good idea on a freshly painted door.
And The Final Touch…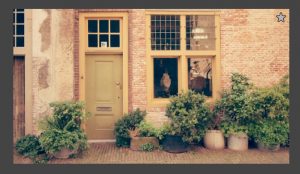 Make your entry even more attractive with pots and planters. Add some flowers and greenery, using colours that are complimentary to the scheme of your house. Work in layers and bring in pots of different heights to add depth to your arrangement. Plant taller plants in tall planters, and place shorter pots in front with plants of varying heights and colours. Dark red & purple are complimentary to bright lime green, so you can choose plants of varying shades to add contrast to your arrangements. Have fun with this! After all your hard work, you can afford to enjoy the decorative bit 🙂
Tidying up after a long blustery winter can be a big job. Work in stages and tackle one thing at a time. Before you know it, your property will be looking fresh and beautiful, and ready for your stream of springtime visitors!