Creating a Romantic Bedroom
It's Valentine's Day, and romance is in the air. Creating a romantic bedroom is a great way to make it feel like an escape from the stresses of the day. You can redecorate the whole space, or just give it a little facelift. Following these tips will add some romance to your bedroom.
Romance with Colour
To create a space that's is low key & romantic, choose a monochromatic colour scheme. Whether you stay on trend and choose a pastel colour scheme (remember Millennial Pink?) or something more typically neutral, keeping a common thread between colours provides a serene, relaxing feel. Dark colours work well if you want to create an intimate moody space, but lighter tones will work just as well as long as you maintain a theme.
Add Luxury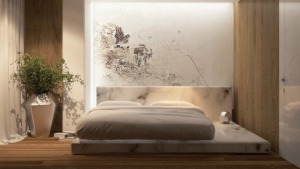 The fabrics you choose can add a real sense of luxury to your romantic suite. Think silks and satins, and add contrast with some chunky knits or fluffy faux furs. Adding different textures creates layers, and layers add luxury. If you're bringing in some new furniture, consider adding metals like gold or copper which add warmth. Marble adds luxury but can feel cold, so make sure you use warm tones in your colours and fabrics to counter the coolness.
Timeless Classics 
If you're updating your bed frame, a four-poster bed may be a good choice. This timeless classic is making a modern statement with updated frame materials and clean lines. When the mood strikes you can drape fabric over the frame for a romantic feel. If you already have a simple wooden bed frame, adapting the frame to a 4-poster style can be a fun DIY couples project.
Don't Forget The Details
Lighting is very important when it comes to creating a mood. Soft light pooling on the rich fabrics of curtains and bedding creates an inviting feel. If you can dim those lights, even better. Add a little more romance by placing lightly scented candles throughout the space. The flickering glow and soft scent is sure to add a touch of romance!
However you choose to add a little romance, creating a romantic bedroom is something that can be done at any time of the year. Start by a adding a few small touches today!
For more bedroom trends, check out this link: https://www.pouted.com/whats-trending-20-bedroom-designs-to-watch-for-in-2017/
Do you have ideas to make a space more romantic? Leave a comment below.