Make Your Bedroom a Haven for Rest
Make Your Bedroom a Haven for Rest 
We all love a cozy bedroom.  As the days get shorter and the nights colder, we crave a retreat to escape the outside world. The bedroom is the perfect room to turn into your safe haven. Away from the clutter and noise of daily life, a beautiful bedroom can help you rest and revitalize like a day at the spa.
 
Ask Yourself How you Want to Feel in the Space
 
Colour will help create the mood of your bedroom, so ask yourself how you want to feel in the space. If you want to wake up feeling energized and inspired for the day ahead, yellow is the perfect mood lifter. If you prefer a more relaxed feel, a softer palette will evoke calm and relaxation. Pastel tones of blues and greys are still very popular going into 2018, either paired with whites and creams, or soft pink (with grey) and pale yellow (with blue). Visit Farrow & Ball's Inspiration page on bedrooms to get some ideas on colour and design.
 
Start with the Art
 
A great place to choose your colours, both for the walls and the fabrics, is from a piece of artwork. Whether you already own it, or have yet to find it, choose artwork that evokes the mood you want to inspire in the bedroom. Pull some of the more subtle colours out into your bedding and pillows. This gentle coordination really pulls a room together and gives it a cohesive feel.
 
Layering Fabrics for Luxury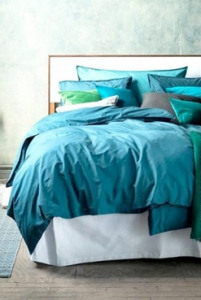 Layering fabrics on your bed conveys a sense of luxury and rest, but don't feel limited to matching everything exactly. You can purchase different combinations of pillows, duvet, throws and cushions in different colours and prints, but stick to your theme for a palette that works. Make sure you choose colours that work well together and are tied in with the wall colour and artwork. A designer look can be achieved through mixing and matching fabrics. Have a look at St. Geneve for some luxury bedding inspiration from a Canadian company.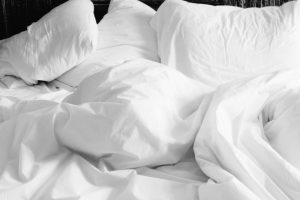 Storage is Key to Harmony
 
If you really want your bedroom to be your escape from all things mess and noise, you need good storage. Whether it's a sturdy closet organizer that keep all your linens and shoes in appropriate spaces, or under the bed storage boxes where you can pack away last seasons' fashion finds, ensure your storage lives up to your expectations of keeping your room clutter-free.
 
Add Some Greenery
Having a plant or two in your bedroom completes the design. The punch of colour adds some life to the room and makes it feel less sterile, happier and healthier.  A little green plant beside your bed does wonders to keep you breathing fresh air throughout the night.
 
The Sense of Smell
 
Regardless of the overall feeling you choose for your bedroom, it should always convey freshness. Invest in a good essential oil vaporizer or room spray, something subtle that won't overpower the room but helps it feel fresh, clean, and inviting. A subtle aroma like lavender can be extremely calming and help induce a good nights' sleep. Something with a hint of citrus will be fresh and invigorating. Make your bedroom a haven for rest, and curl up through the long cold nights in your cozy new room.
 
Have a look at what's trending now and let me know if you like what you see.
 
Colour inspiration:
http://us.farrow-ball.com/bedroom-inspiration/content/fcp-content
https://www.benjaminmoore.com/en-ca/colour-overview/colour-collections
Bed Linens: